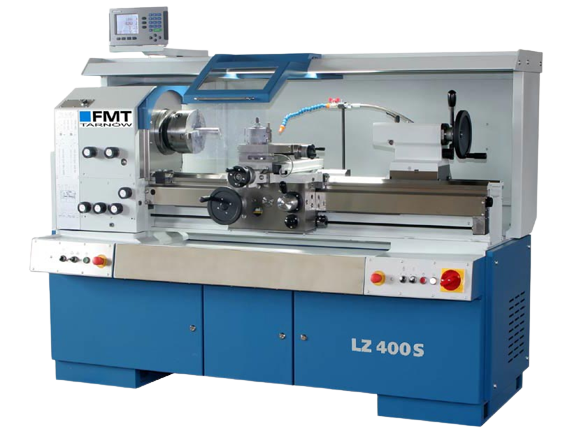 LZ 400S
Universal lathe LZ-360S, LZ-400S is appropriate for precise manufacturing of medium-size parts according to DIN8605 tool accuracy.
All types of below-mentioned operations can be done on this machine:
turning, facing, boring, tapering, holes drilling
threading: metric, screw, modular, diametral pitch

As the two kinds of stepless spindle rotation regulation is included a wide range of spindle turning speed is possible which allows to machine the part in optimal machining parameters and what is more the engine's power is economically consumed.
Universal lathe has a wide range of travels and threads pitch. The machine is equipped with a special roller and lead-screw cover as well as travelling covers: for lathe chuck and anti-chip for full length. It is adjusted for details mounted in clamps or centers.
The Lathe with hardened cast iron bed is mounted on metal bases made of welding plates, inside of which there are placed a removable chips tank as well as the cooling system. There is a power-controlling system in electric cubicle. Inside the base there is also a place for some tools or instrumentation.