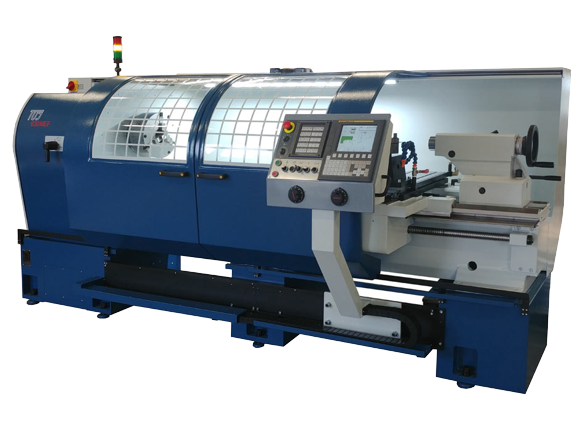 TUJ-560MEF / TUJ-630MEF
TUJ-560/630 MEF lathes machines with Fanuc 0i TF control system are intended to execute general turning operations one off's and series production. Machine rigid construction, high power of driving motor and ball screws for slides drive, ensure a great capacity and machining accuracy.
Control system enables work in conventional way (using manual handwheel), semi automatic with manual correction of cutting depth for each cut and automatic by recording machining cycle, setting a cutting depth and starting the cycle. Most of the elements used by operator during turning operations is spaced on a control panel slidable along the bed.
Additional display of the control panel enables simple setting of all essential parameters like: spindle speed, rate of travel, programming and cycle selection. Operator can see on the display entered parameters and tool position therefore he can go on with machining operations.
Spindle speed synchronization with slidable motor revolutions in axis Z allows executing a wide range of various threads.
Typical machining cycles available:
Machining cycle acc to inserted geometry of machined surface
Taper cycle
Threading cycles: outer and inner threading, outer thread repair
Grooving cycle
External ball cutting cycle
Drilling and tapping cycles
Facing cycle
Possibility of operating CNC and manual mode. Tool selection and tool offset functions are available as well as constant cutting speed. There also exist a possibility of connecting an external personal computer by RS-232C interface.
WORKING AREA
TUJ-560MEF
TUJ-630MEF
L=1500
L=2000
L=3000
Distance between centres
mm
1460;
1960;
2960;
Max. turning lenght
mm
1370;
1870;
2870;
Swing over bed
mm
560
630
Swing over cross slide
mm
340
410
Swing in gap *
mm
800
870
Length of gap in front of driver plate *
mm
250
Top part of cradle width
mm
370
Max.weigth of detail fixed in centres
Max.weigth of detail fixed in chuck 315 supported by tailstock
kg
300
Max.weigth of detail fixed in chuck and supported
by steady rest
kg
kg
600
800
Weigth
kg
3160;
3350;
3760;