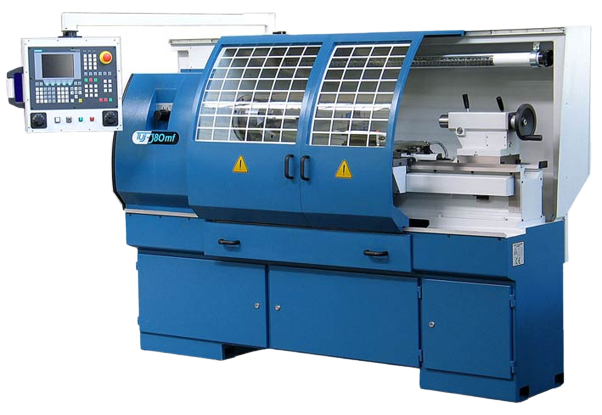 TUJ-380MF
The TUJ-380MF* lathe is of universal character and manufactured in the precision class according to ISO 1708; 1989 standard.
It is designed for general turning operations. Its rigid construction, high power of the driving motor and ball screws applied for slides drive ensure great efficiency and accuracy.
The lathe is empowered through a belt transmission by a 7,5 kW electric motor controlled by a frequency converter. A pair of sliding gears applied in the headstock allows stepless spindle rotation rate change in two ranges: 30÷800 rpm and 120÷3000 rpm with optimal cutting conditions (optimal use of driving power). The lathe is equipped with SINUMERIK 828 control system or FANUC Oi Mate TF system enabling conventional way of working (using handwheels) and automatic.
The spindle speed synchronisation with the Z-ax slidable motor revolutions allows executing a wide range of various threads at a chosen pitch.
The TUJ-380MF is equipped with SINUMERIK 828 or FANUC Oi Mate TF system which allows:
Simple programming in accordance with DIN 66025 standard
Easy tools positioning
Turning
Cutting
Tapping
Drilling
Deepening
Boring
Taper turning cycle
External ball cutting cycle
Lathe TUJ-380 MF is equipped with a quick-change tool holder HASSE.
We also offer lathe TUJ-380 with multi-tool head PRAGATI marked as TUJ-380 CNC.
| WORKING AREA | | |
| --- | --- | --- |
| Distance between centres | mm | 1025 |
| Max. turning length | mm | 1000 |
| Swing over bed | mm | 380 |
| Swing over cross slide | mm | 210 |
| Width of top bed part | mm | 260 |
| Spindle nose PN-ISO-702-1 | | A6 |
| Spindle bore | mm | 56 |
| Spindle taper | mm | B70 |
| Spindle speed range | rot/min | 30-3000 |
| Main drive motor | kW | 7,5 |
| Ouill travel | mm | 130 |
| Quil inner taper | Morse'a | 4 |
| WEIGHT | kg | 1580 |